I am soooooo pissed~!!! but I don't wanna post rants yet... they're personal things and also Gackt issues.... (But I wanna say
I grieve for your hair, Satoru-sama~
T___T)
Gackt Puts in Surprise Performance at Takada High Graduation
(高田高卒業式にGackt参上)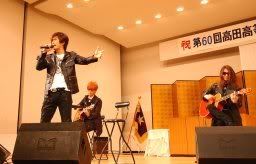 Gackt made a special appearance at the graduation ceremonies at Takada High School in Joetsu City on March 18th. The graduating class, who were not told in advance about the artist's coming, were surprised and excited by the performance.

The school is located in an area once ruled over by the legendary feudal warlord Kenshin Uesugi. Gackt played Uesugi in the 2007 NHK taiga drama Fuurin Kazan.

Gackt performed his single Noni Saku Hana You Ni which is becoming a staple of many graduation ceremonies and admonished the students with Kenshin Uesugi's words "Dreams can manifest your powers." Many students were touched by the performance, and some were even weeping as Gackt sang.

Eighteen-year-old Miki Dosawa said, "I went pale when I saw him; I was so shocked." The rest of her class was equally excited.

~> NIIGATA-NIPPO ONLINE <~
(translation credits:
vanillamarmalad)

Someone posted a cut video clip on youtube,
and thanks to
pixiezdust for posting this link to
gackt_army